One of the ploys of evil and those who cooperate with evil is to keep those who wish to expose truth shut up. There are tens of millions of women (and no, I do not exaggerate) who have been injured by abortion. Most of these women are so traumatized by their abortion that they do not feel capable of speaking out and saying "my abortion has injured me" Indeed an abortion injures a woman at the very core of her soul and so it cannot bear thinking about.

Truth - an abortion kills a human being - a tiny, vulnerable, innocent human being.

A mother never seeks to injure her child and yet so many times there are circumstances surrounding her pregnancy that she does not feel she has a choice any choice but to kill her baby so that the circumstances will once again be normal.



Instead of returning to

normal an abortion exacerbates the circumstances, but now, the woman, who knows deep inside of her soul that she permitted her child to be killed, is not supposed to say anything.

There is always someone who preys on vulnerable women and innocent children and one of these evil doers is a man by the name of LeRoy Carhart. He is a butcher. He performs late term abortions. Operation Rescue is trying to find women who have been his prey in order to bring justice for the slaughtered babies and the injured women. They are trying, IN A PEACEFUL manner to stop this man from killing one more innocent person and from injuring one more mother.

I include the information below in hopes that women will come forward - that they will receive compassionate care from those who know the pain of abortion (as many in O.R. do) and will be able to end this insane evil.
Seeking Women Who Have Had Abortions By LeRoy Carhart
June 25, 2009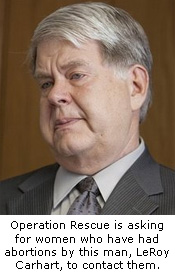 Wichita, KS - Operation Rescue is asking women who have had abortions by LeRoy Carhart in the past five years to contact them.
"We are conducting a research project and are encouraging women who are ready to share their stories about their abortion experiences with LeRoy Carhart to contact us as soon as possible," said Operation Rescue Senior Policy Advisor Cheryl Sullenger. "Of course, all communications with us will be held in strictest confidence."
Carhart operates an abortion clinic known as the Abortion and Contraception Clinic of Nebraska in Bellevue, Nebraska, a suburb of Omaha. He was employed until its closure at Women's Health Care Services in Wichita, Kansas. He is also licensed to operate in Indiana, New Jersey, Ohio, and Pennsylvania. He may have done abortions in Iowa in the past, as well.
If you had an abortion at by LeRoy Carhart in any of these states over the past five years we would love to speak with you. Your communications will remain confidential and your identity will be protected. Contact Operation Rescue by e-mail at info@operationrescue.org.